Adult Plans - $79/mo
Includes Up To 4 Visits - $19.75 each
Adult Plans - $139/mo
Includes Up To 10 Visits - $13.90 each
Youth - under 18 Plans - $49/mo
Includes Up To 4 Visits - $12.25 each
Additional Visits - $10
Hydrotherapy is an additional $6/MO with the plan
Package Deals are available for patients with busy work or travel schedules that choose flexibility over savings.
Chiropractor Las Vegas NV
Welcome to NuSpine Chiropractic - Spring Valley - Tropicana West located in Las Vegas NV. Chiropractic is one of the most amazing healthcare professions, but very few people understand what it's all about. This article is here to help you gain a basic understanding of how our Las Vegas NV chiropractors can help you and your family.
Chiropractic Physician
Dr. Chrisitan Choi
His most memorable experience in healthcare thus far: at his former practice, a female patient came in with a negative attitude and was mean to the front staff. He quickly stepped in and assured her that he would do his best to listen to her. After he was done treating her mostly for her lower back and hip pain, he says she could not have been any nicer and appreciative. She even apologized to staff on her way out, citing she was in pain which made her angry. Dr. Choi says, "It was another reminder my job goes beyond giving good treatments. Pain can 'change' a person so I cannot forget to listen and be compassionate."
He graduated from University of California, Berkeley where he majored in human biodynamics. He received his Doctor of Chiropractic from Southern California University of Health Science.
When he is away from the clinic, he is a volunteer for Operational Underground Railroad, which fights human trafficking and helps rescued children with their recovery journey and Hope for Paws, a local dog rescue organization.
How Can Chiropractic Care Help You?
Many people dismiss chiropractic as being something only for back pain, but chiropractic treatment can be used to treat a wide variety of physical issues, such as migraines and headaches, chronic pain, carpal tunnel, pain due to injury or muscle strain, and much more.
NuSpine Chiropractic
Chiropractic care is the practice of using spinal alignment to alleviate a wide variety of physical ailments, including muscle strain, neck pain, chronic back pain, and more. This is accomplished by adjusting the position of the spinal column to its proper shape, providing a non-invasive solution for pain relief.
The History of Chiropractic Care
The word "Chiropractic" is derived from the Greek words "cheir" (hand) and "praktos" (done) combined to mean "done by hand." It was chosen by the developer of chiropractic care, Daniel David Palmer. In 1895, D.D. Palmer performed a chiropractic adjustment on a partially deaf janitor, Harvey Lillard, who later reported that his hearing had improved due to the change.
D.D. Palmer opened the first chiropractic school two years later, and in the century since, chiropractic professionals have used spinal adjustments to help people prevent and cope with back pain, carpal tunnel, muscle strain, headaches and migraines, and a variety of other physical ailments. Millions of people benefit from the work of Dr. Palmer today.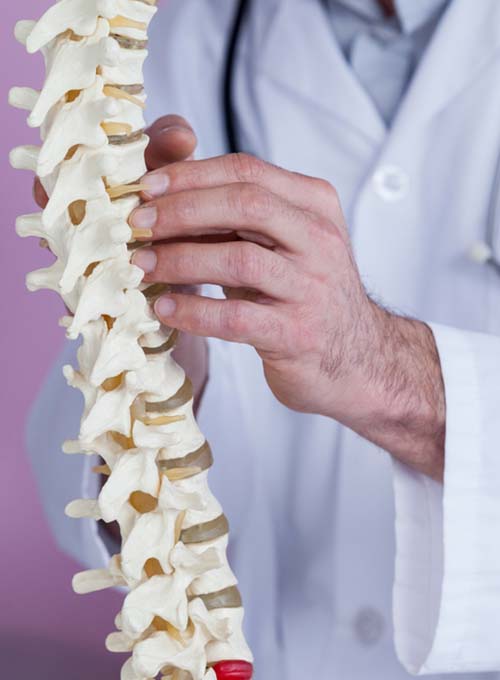 What Kind of Training Does a Chiropractor Have?
Chiropractic doctors go through a minimum of four years of schooling at a chiropractic college, generally preceded by an undergraduate degree in the basic sciences or several years of experience in a prior relevant health care field.
Students of chiropractic care must spend a minimum of at least 4,200 hours with their teacher, and a minimum of 1,000 hours of fully supervised clinical training with an instructor.
They learn the appropriate diagnosis and treatment techniques to help heal your body and restore it to its natural, fully functioning state.
At NuSpine Chiropractic our chiropractic team is ready to meet with you to discuss your needs. We will help to design a program that is right for you. We look forward to meeting you.
ready to find out more?
$29* New Patient Special Offer
At NuSpine you get a complete examination, chiropractic treatment, & hydrotherapy massage. Beyond that, our prices only get more affordable!
Monday: 10:00am - 6:00pm
Tuesday: 10:00am - 6:00pm
Wednesday: 10:00am - 6:00pm
Thursday: 10:00am - 6:00pm
Friday: 10:00am - 6:00pm
Saturday: 10:00am - 4:00pm
Sunday: Closed